Building tools - Supporting NFT projects (especially non-profits) on Solana blockchain!
111 DAO tickets, 50% of royalties will flow into the DAO Wallet.
MillionSols DAO tickets on MagicEden
DAO ticket holders have voting rights and the opportunity to actively shape the future of MillionSols.
$MILS - MillionSols token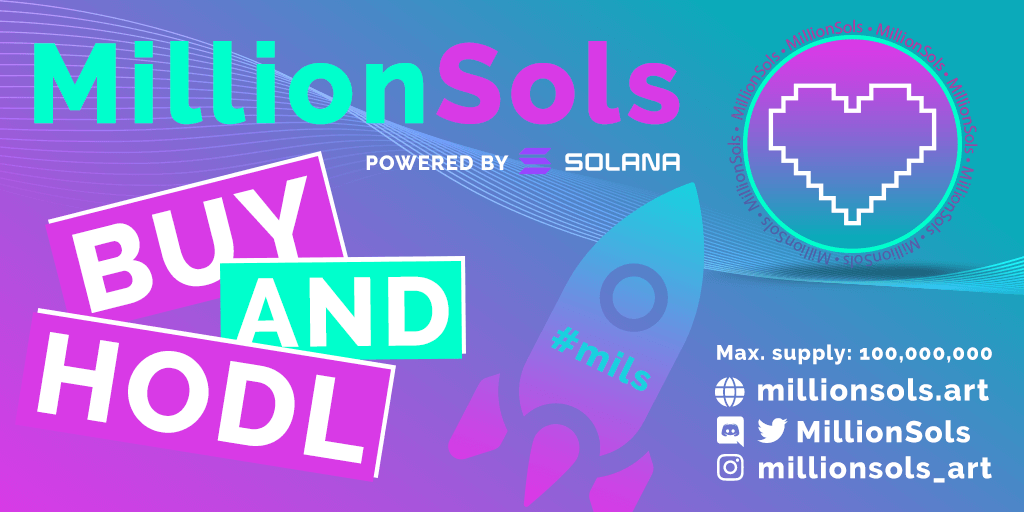 The MillionSols token $mils will be used in the future, among other things,
as payment for the use of MillionSols tools and platforms and to reward DAO and community members.
Max. supply only 100,000,000!
Trade $mils at DexLab
Solana NFT collections
Rarity - Floor - Sniper - Sales
TOOLS AND BOTS
Supporting Solana NFT projects
Rarity
Project listing, rarity calculation, search by traits, order by rank or price, direct-linking marketplaces, floor prices, charts and history. See examples: MillionSols DAO, Cyber Frogs
Sniper
Send new listings directly to your Discord server. Including link, marketplace, price, image, traits, rarity and rank. Supported marketplaces: MagicEden, Solanart, AlphaArt.
Sales
Monitoring royalties wallet and send new sales directly to your Discord server. Including price, marketplace, transaction, image, traits, rarity and rank.